Brewseum:
Beer Museum

April 2020
> Branding > Digital Advertising > Print Design


The Brewseum is a proposed museum which educates and engages its visitors in the world of beer.

The purpose of this museum is to a provide a fun and interactive space for adults to learn about the making of beer and its history. Beer is known for its social culture, and this museum will provide a space to further social connections. The Brewseum offers taprooms, interactive exhibits, demonstrations, and meetups to further engage the visitor in beer culture.
Branded Materials
---
Visual Research & Experimentation


I researched objects associated with beer and cataloged beer brands to begin the design process. Through this research I was able to identify new symbols and indexes to represent beer and its social culture to influence my branding.


---
Logo Design
The logotype concept for the branding of this museum combines aspects of beer and social interaction. These are two main elements of the Brewseum. Throughout the research and ideation process I was able to identify icons and images to represent the overlap between beer and social gathering. The final logotype uses letterforms to create clinking beer glasses that stand alone as an icon and in typographic lock up.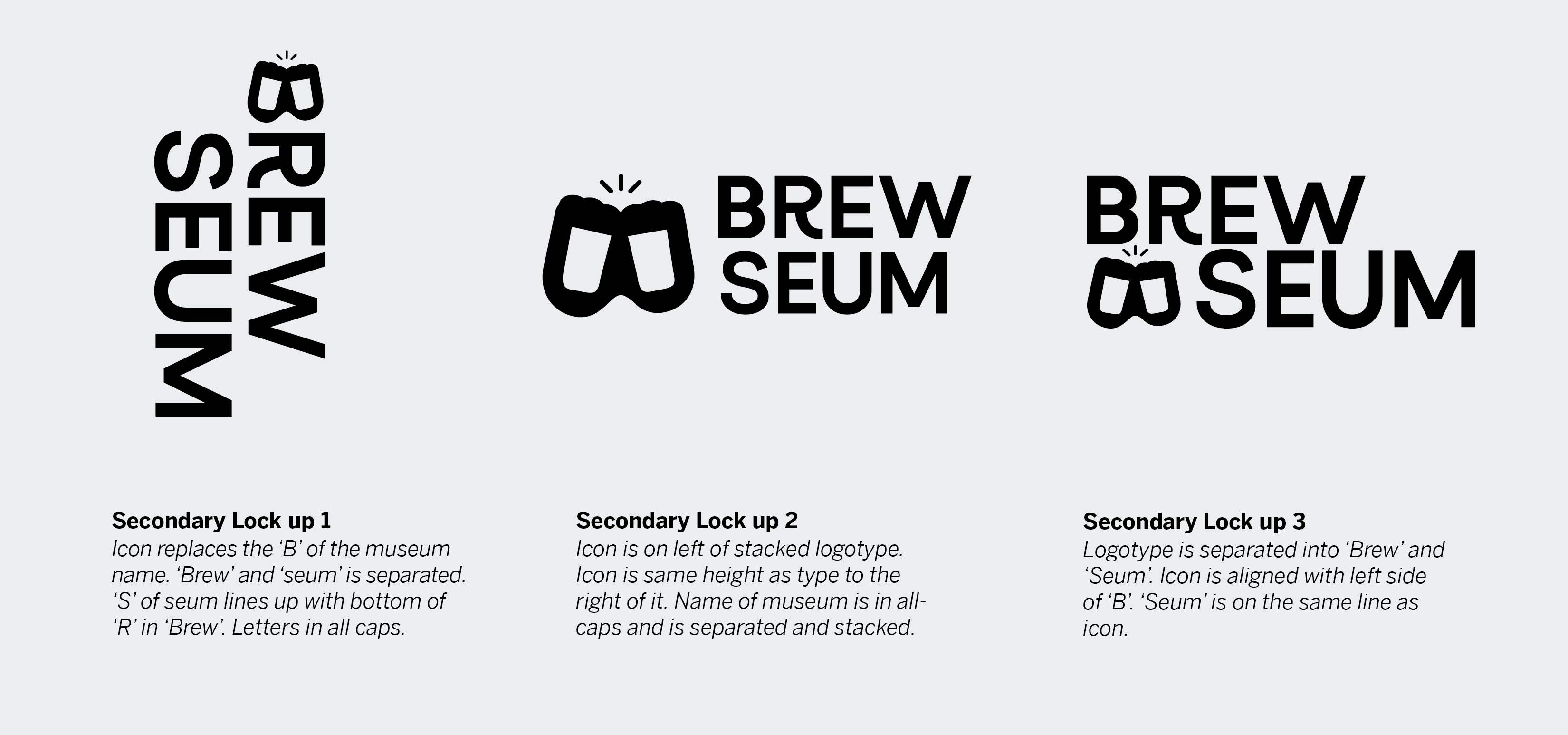 Primary Logo Lockup Secondary Logo Lockups
---
Color Palette
The color palette of the Brewseum utilizes a mix of warm colors with some cooler colors, black, and an off white to contrast. The logo can be created in any color, but the icon and the type must be the same color. The following images show guidelines on specific color combinations.
---
Poster Designs
The poster design allowed me to explore the flexibility of the brand system I created. I experimented with various imagery, textures, and compositions. Through my design I wanted to evoke a playful and eye catching design. The final iterations of the posters used the clinking glass icon as the heads of two individuals to represent the social connection and fun of the museum.
Final Poster Designs
Early Poster Iterations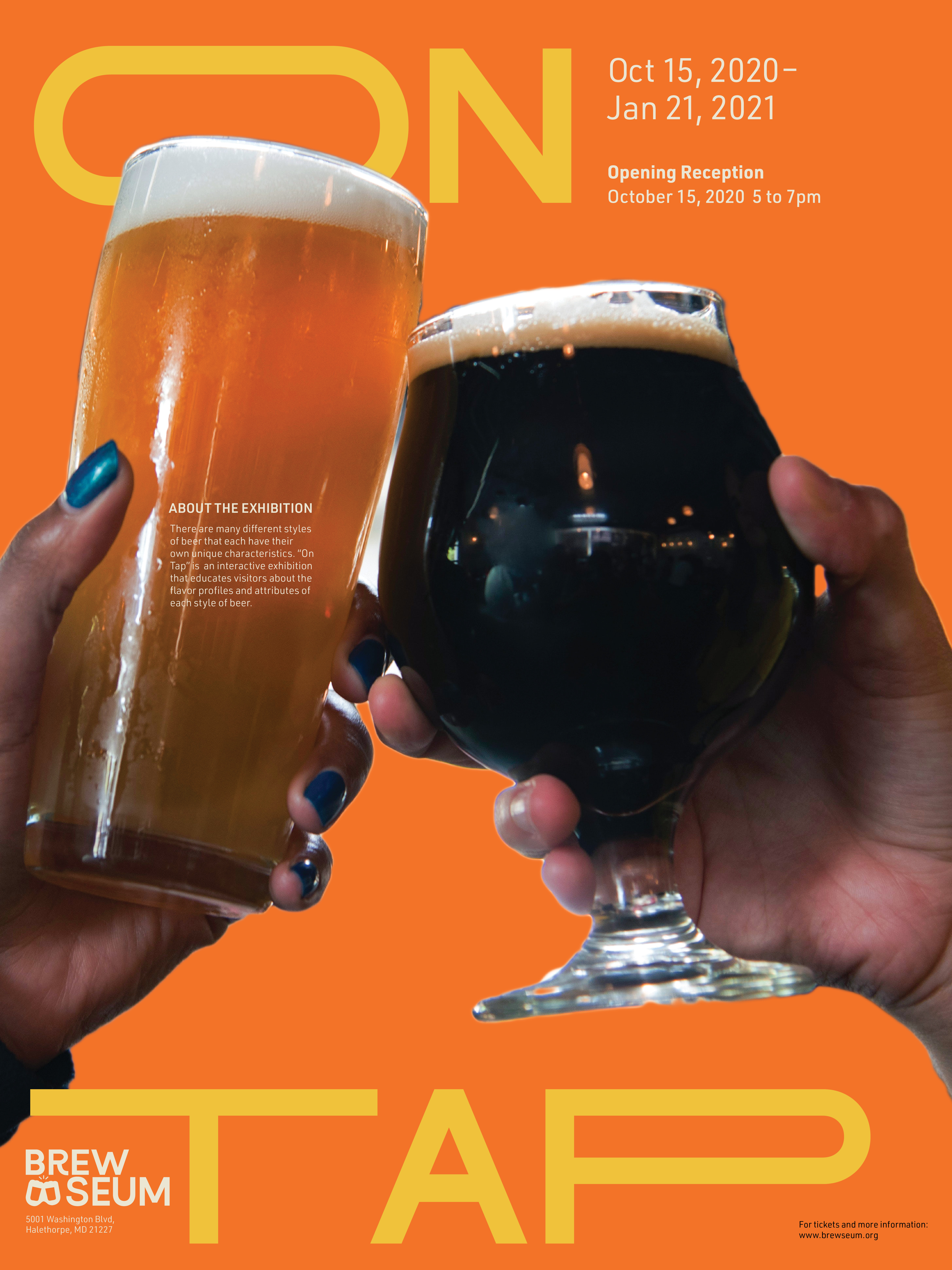 ---
Final Brochure Design (Front and Interior)
Final Brochure Design (Back and Interior)
---
Digitial Advertisements

Based on the poster designs I explored various ways to adapt my system to create diversity within the deliverables. The digital ads challenged me to create eye catching designs with simplified text. In order to create cohesion among the deliverables I utilized the bold variable typeface as the main element of my Instagram ad, and mirrored the museum icon used in the posters and logo with an image of clinking glasses.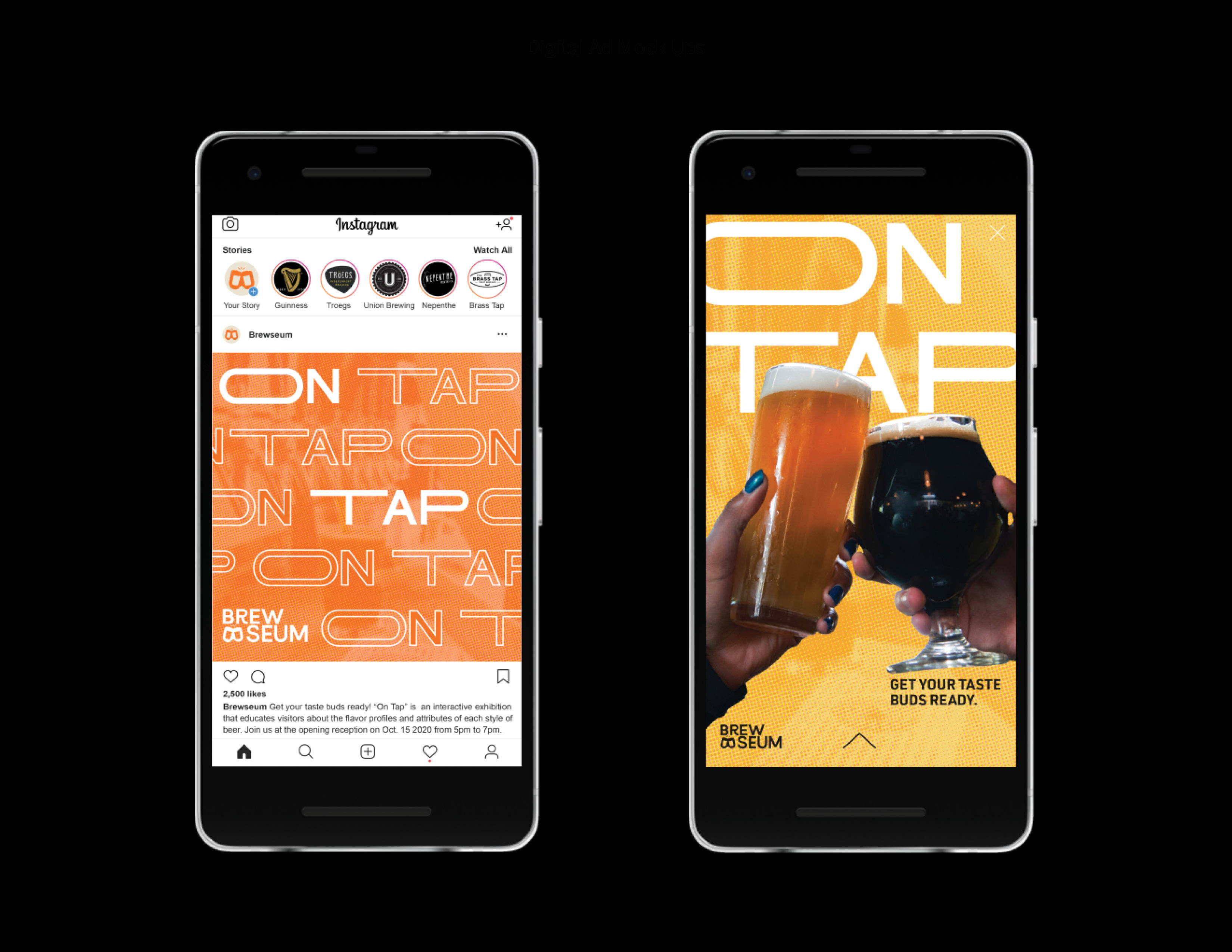 Final Instagram ad and full screen ad
---
Spatial Graphic



Environmental graphics are an important part of exhibitions in a museum. I created a branded taproom for the featured exhibition:On Tap, and a vinyl graphic for the entrance to the museum.
Museum Tap Room Interior
Museum Hours Vinyl Decal
---